Explore Esch
A fresh perspective on a multiple faceted city
Client
Ville d'Esch-sur-Alzette
The challenge
The tourist office of the city of Esch launched in april 2023 a new web platform to shine a light on the city lifestyle and touristic offer, revealing all the cultural, sportive and entertainment events and activities available on the territory.
Lola was in charge of the social media and digital advertising strategy to promote and drive traffic on the new website. The client expected the communication to reach not only the Great Region, but also a wider international audience, leveraging on the high amounts of expats in Esch and Luxembourg city.
Not easy for a small once-industrial city in full economic transition, with a debated reputation: cherished by its citizens and connoisseurs, it is often undervalued by the broader public.
"Esch's culture and energy really surprised me when I started working for the City Council. It's much more vibrant than you might ever imagine from abroad. I hope all 'Esch Explorers' get to experience the same positive surprise."
Lia Ghilardi urban consultant from The Academy of Urbanism, London
A 4-steps process to live up the expectations
01.
IMAGINE
It all started with a why, as usual: Why should I visit Explore Esch?
To answer this question, we've delved into Esch's cultural history, morphology and DNA, consulting everything from citizen perception surveys to documentation produced in the framework of Agenda 21.
The picture that emerged depicts a city that's hard to categorize: small (with a 14 km diameter) yet home to over 130 international communities, formerly industrial but with a vibrant artistic culture, historical yet firmly future-oriented, productive and full of entertainment options. Indeed, a dual city, as also conveyed by its new coordinated image.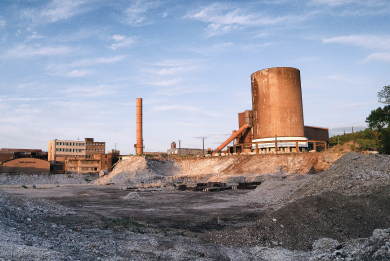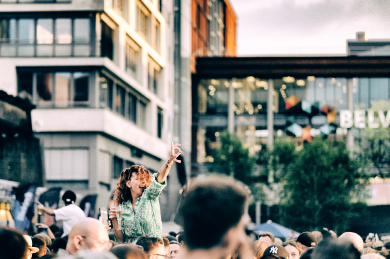 We've founded our entire communication strategy on this duality, aiming to reveal how every preconception about Esch can be delightfully disrupted by its contrasting image, exposing another facet of its intricate tapestry and offering something for every kind of 'explorer.'
This duality has given rise to various campaigns, each concentrating on unique, meaningful oppositions. Furthermore, the duality concept has been expanded into a strategic document and a manifesto, providing the client with a versatile guiding tool for new initiatives.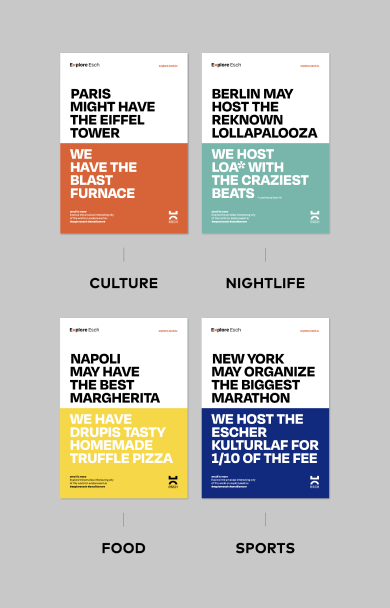 "Staying authentic is always the right choice for every branding project. Through the lens of duality, we've unveiled the authentic DNA of a city of contrasts, able to fascinate behind stereotypes."
Angela de Marco Senior Strategic Planner at lola
02.
CREATE / DESIGN
In the first campaign, the concept of duality inspired unexpected comparisons between well-known big city icons and Esch's own local landmarks, thereby sparking curiosity and debate.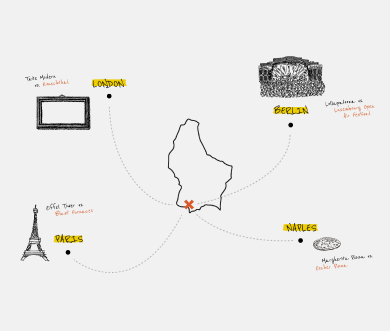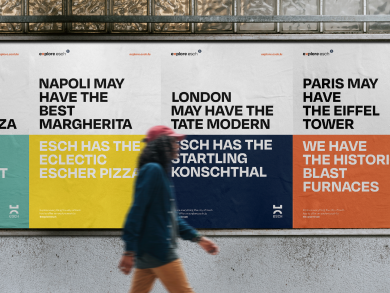 In our second campaign, we spotlighted former industrial sites reborn as cultural and entertainment hubs, using day-and-night imagery and wordplay to emphasize their dual historic and contemporary significance.
Anchored in duality, we crafted a coherent visual and verbal language. Visually, we utilized techniques like screen splitting and animated transitions. Verbally, we leveraged a blend of French and English, employing bilingual phrases such as 'Now or Jamais' as metaphors to symbolize the harmonious integration of opposing elements.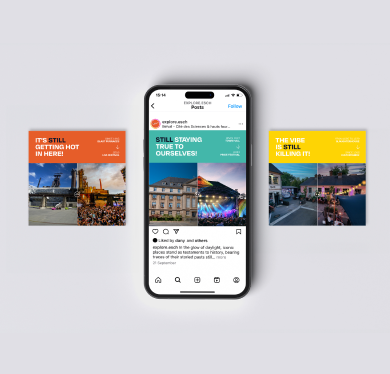 Lola seamlessly integrated every aspect of the project, sculpting the digital strategy, curating each design detail and acting as a pivotal connector among all entities involved.
From gathering and fine-tuning materials held by local stakeholders to generating tailored photographic contents, we devoted equal commitment and value to both mindful relationship management and precise creative direction.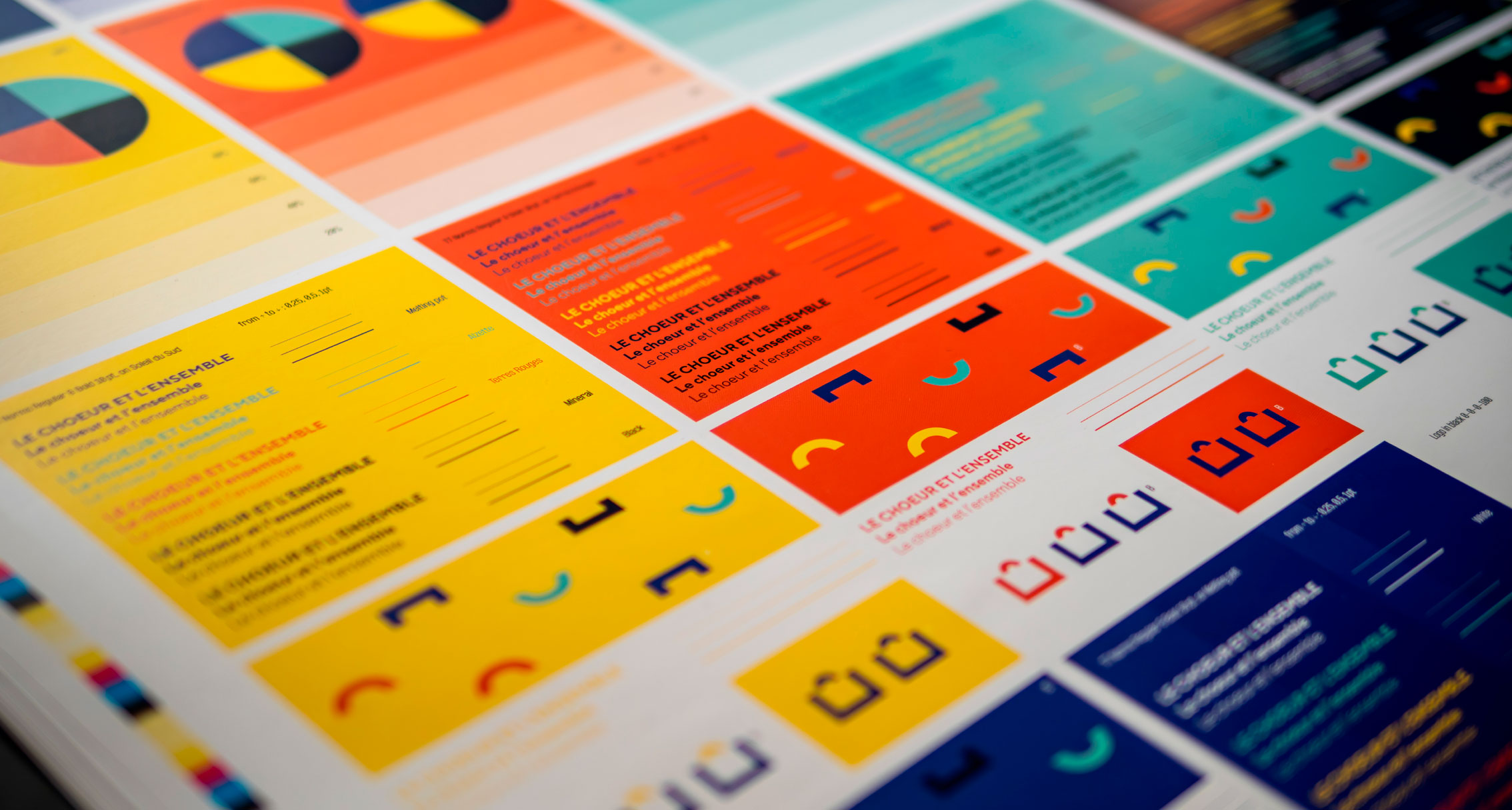 "A well-rounded, resilient concept - like the one we crafted for the rebranding of the city of Esch - acts as a dependable anchor throughout the project. Even in moments of uncertainty, it provides the answers we seek, enhancing the quality of design and giving credibility to the entire creative process."
Anni Piticco Graphic designer at lola
03.
BROADCAST
The strength of the digital department lies in developing the digital strategy in line with the defined marketing objectives.
How do I attract and engage an audience by highlighting authentic and unique content?
How do I drive quality traffic to my website?
How to build and maintain an engaged social media community?
We designed awareness campaigns that were distributed across highly visible media channels such as social networks such as META, programmatic display networks and YouTube's video network. These campaigns were strategically planned with quarterly releases during specified periods.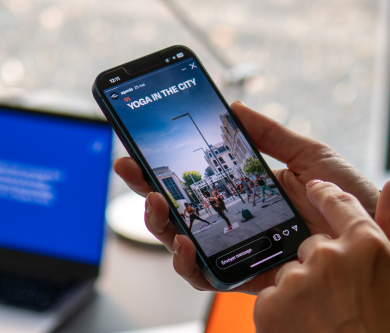 In addition to these awareness campaigns, we also ran search network campaigns. The primary objective is to establish Explore Esch's website presence for search queries related to the city's cultural and tourist activities, with the aim of generating qualified traffic on a consistent basis.
Last but not least, we have implemented a content strategy on social networks, particularly Facebook and Instagram (IG), to create a strong link with our target audience.
Our aim is to create quality content that allows our community to discover something new every week: whether it's a moment, a museum, an event or a story. To achieve this, we have developed an editorial line in line with our brand values and created unique editorial events. These events allow us to progressively implement our content strategy
"Using creativity and design to enhance the digital experience, while seamlessly adapting to different media platforms, all the while remaining customer-centric. Reach the right people with the right content at the right time."
Sophie Simon Digital specialist
04.
FINE-TUNE and MEASURE
As with many projects, we work within a framework that allows us to work on multiple objectives simultaneously. At each stage and for each campaign, we associate specific key performance indicators.
In 2023, more than ever, a skilled digital marketer is a consultant who can master algorithms. The real finesse lies in our ability to understand client expectations and harmonise them with the technologies used to build that bridge, all the while aiming for tangible results. Our priority is to focus more on optimising our tools, whether it's a website, user experience, creating compelling content or adapting to different formats, while maintaining strict control over our budget investment.
"To optimize a campaign is to master the art of juggling with data, adjusting the strategy in real-time, and transforming a project into a success."
Justine Mullens Digital marketer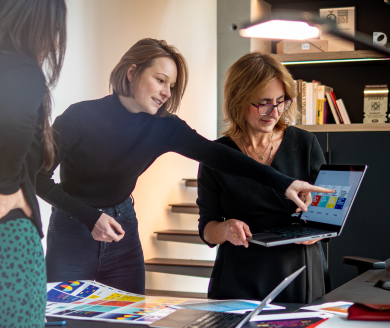 Conclusion
+8.800
sessions par mois enregistrées sur le site explore esch depuis avril 2023
7.034.269
impressions générées par nos campagnes digitales (Meta, RTB via Adform, Google)
410.331
utilisateurs atteints via Meta